OSHA Releases COVID-19 Rules; U.S. Fifth Circuit Blocks Implementation After Lawsuits Challenge OSHA's Legal Authority
by Frank T. George, Esq.
On November 4, 2021, the Occupational Safety and Health Administration (OSHA) issued an emergency temporary standard (ETS), which applies to most businesses with 100 or more employees. These newly issued federal regulations require many employers to maintain mandatory COVID-19 vaccination and/or testing policies.
OSHA's ETS became effective immediately upon its issuance, but covered employers are afforded 30 days to develop a mandatory vaccination policy and 60 days to comply with testing requirements. If your business employs at least 100 employees, McCarthy Lebit encourages you to contact our office for advice and counsel regarding these regulations. Read the full text of the rules here.  [ Continue Reading This Article ]
---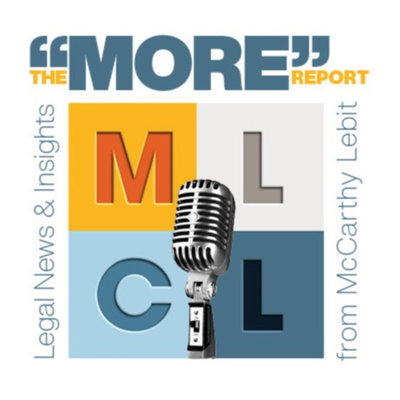 More Insight from McCarthy Lebit on the "Vaccine Mandate"
Listen to Employment Litigators Ann-Marie Ahern and Jack Moran from a recent episode of our podcast
The More Report, Podcast Edition
As they discuss the viability of the "vaccine mandate" in the face of probable legal challenges.
LISTEN NOW!
---
Highlights from the OSHA ETS
OSHA has determined that unvaccinated workers face serious danger, that vaccinations and/or regular COVID-19 tests are necessary measures to take in order to protect against this danger, and that employers with 100 or more employees have the administrative capacity to implement vaccination and/or testing policies.
The ETS requires employers to implement a mandatory vaccination policy, unless employers instead enforce a mandatory weekly COVID-19 testing requirement for unvaccinated employees.
Among other things, the ETS also requires businesses to:

Maintain proof of employees' vaccination status;
Provide employees paid time to receive the vaccine and recover from any side effects;
Implement mandatory face-covering policies for unvaccinated workers; and
Distribute information regarding the ETS to employees.
Because businesses are expected take immediate action to comply with OSHA's newly issued ETS, contact McCarthy Lebit as soon as possible for more information.
U.S. Fifth Circuit: Not So Fast!
It took just a day-and-a-half for OSHA's ETS to be blocked by a federal appeals court. On Saturday, November 5, a 3-judge panel from the U.S. Court of Appeals for the Fifth Circuit granted an emergency stay of the OSHA requirement that workers be vaccinated by Jan. 4 or face mask requirements and weekly tests.
In response to the ETS, more than two dozen states, businesses, business groups and religious organizations have sued, calling the rule issued by the Occupational Health and Safety Administration an overreach of government authority, with most arguing that OSHA lacks the legal standing to issue a rule in response to a society-wide health concern, and even if reducing the risk of COVID-19 "remains a compelling interest," it is not necessarily a "grave danger" as OSHA has declared it to be. The plaintiffs also questioned the timing of the rule, coming more than a year-and-a-half into the pandemic, when many employers have already implemented safety measures and COVID cases are falling.
In issuing a stay on Saturday, the 5th Circuit Court of Appeals, based in New Orleans, said the petitions "give cause to believe there are grave statutory and constitutional issues with the Mandate."
Biden Administration Response Late Monday
In an expedited reply to the motion for a permanent injunction Monday, Biden administration officials warned that maintaining the stay "would endanger many thousands of people," as the death toll from COVID continues to hover around 1,300 people per day nationally.
"With the reopening of workplaces and the emergence of the highly transmissible Delta variant, the threat to workers is ongoing and overwhelming," the administration argued, while dismissing the legal objections that led to the stay as lacking merit. In fact, the White House is urging companies to ignore the stay and continue implementing rule compliance.
What's Next For the Legal Challenges?
Because there are challenges to the OSHA rule in multiple circuit courts — including the 5th, 6th, 7th, 8th, 11th and D.C. Circuits, federal law dictates that the cases be consolidated and heard by one federal appeals court, chosen by lottery. That lottery could take place on or around Nov. 16, according to the U.S. Department of Justice. Ultimately, the case could end up at the Supreme Court. Meanwhile, petitioners in the Fifth Circuit Case have until 5pm Tuesday, November 9 to file a reply to the government's response.
UPDATE (11/12/2021): Fifth Circuit Stays Biden Mandate
On Friday, November 12, the Fifth Circuit Court of Appeals agreed to issue a stay of enforcement and implementation of the OSHA's ETS.  In their 22-page opinion and ruling, the Court made reference to several reasons why the ETS should be stayed pending additional review, including suggesting that the ETS was unconstitutional under the Commerce Clause and non-delegation doctrine. Even if the ETS could survive a constitutional challenge, the court went on to hold that COVID-19 was not the proper subject of emergency administrative action by OSHA. Pending further review, this ruling effectively invalidates the ETS, since OSHA is now barred from implementing or enforcing the standard.
UPDATE (11/16/2021):  Six Circuit Wins Lottery to Hear Consolidated Challenge to OSHA ETS
The U.S. Judicial Panel on Multidistrict Litigation held a lottery on November 16 that named the Sixth Circuit Court of Appeals, an overwhelmingly  conservative court (11 of 16 sitting Judges were appointed by Republicans), will take up the 34 lawsuits now consolidated into one case.  The Court has not yet scheduled oral arguments or assigned judges who will hear the cases, though at least one challenger has filed for en banc consideration by the Court – meaning the entire bench of 16 judges would hear the cases.
It is not immediately clear whether the transfer of the cases will override the injunction issued by the Fifth Circuit. Still, because the ETS is not scheduled to go into effect until January 4, 2022, there is no change to existing policy at this time.
What Can/Should You Do Next?
As with all things COVID, uncertainty is the only certainty today.  Employers should stay up to date on litigation developments and continue to prepare themselves for the possibility of the ETS going into effect in the near future. Essentially, employers should continue preparing final vaccination policies, compliance policies, communications plans, and a process to track and store confidential details about an employees' vaccination status.
That said, federal contractors and healthcare employers should continue to comply with their separate federal COVID-19 requirements, which have not been stayed in the OSHA ETS litigation.  If you're in doubt about where your business falls, please reach out to any of our employment law attorneys for a consultation.